For most couples, a wedding is a once-in-a-lifetime event. The ideal vision is a magical night involving an enchanting atmosphere, delectable food, and euphoric vibes all around. Such a wedding is so desired that some people may even go all out just to see that vision through. I guess if you have the budget, then why not, right?
That being said, perhaps the most important component of a spellbinding wedding is the venue. Usually, the more luxurious the venue is, the better. Most people who have the money look to A-list celebrities for inspiration. Here are 5 of the most iconic celebrity wedding venues to consider for your own event:
#1 The Forte di Belvedere, Florence
When it comes to luxury, who better to take advice from than Hollywood's royal couple, Kim Kardashian and Kanye West? The power couple had their wedding at the Palace of Versailles in France, then they flew to Italy to have their wedding reception at The Forte Di Belvedere. The night was an absolute spectacle—big names such as John Legend, Chrissy Teigen, Jaden Smith,  and Serena Williams were there, and Kim Kardashian also had four dress changes that night.

CTV News
#2 The Breaker's Resort, Florida
Weddings by the beach can incredibly luxe. Just take it from Magic Mike's Joe Manganiello and Modern Family's Sofia Vergara, who tied the knot at The Breakers Resort in Palm Beach, Florida. The venue gets opulence from its gilded moldings, frescoed ceilings, beautiful gardens, and crystal chandeliers. For their wedding, the entire place was decorated with flowers upon flowers. Special guests included Channing Tatum, Reese Witherspoon, and Pitbull, who also performed that night.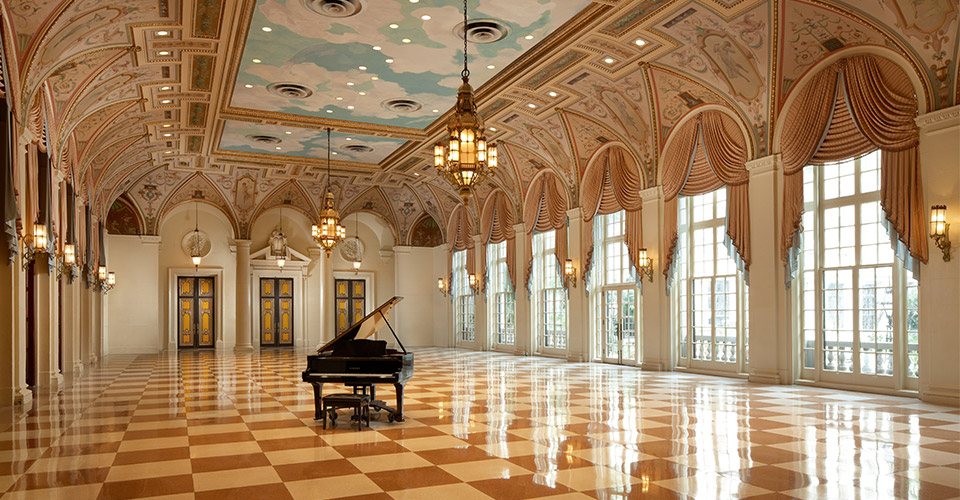 The Breakers
#3 Chateau Vaux Le Vicomte, Paris
Do you dream of a fairytale wedding fit for a prince and princess? The Chateau Vaux Le Vicomte has a spectacular 15th-century ballroom that can seat as many as 200 people (or more—a bespoke marquee can be built as an extension if require more accommodation). Desperate Housewives star Eva Longoria and her husband, NBA player Tony Parker chose this venue for their wedding reception.

Vaux Le Vicomte
Sign Up For Our Newsletter
Stories that matter — delivered straight to your inbox.
#4 Boone Hall Plantation, Charleston
If you want a wedding with a bit of that Southern charm, a good venue to consider is the Boone Hall Plantation in Charleston, South Carolina. The 738-acre property was where Blake Lively and Ryan Reynolds exchanged vows, and it is also known as the location of Allie's summer home in The Notebook. The wedding was decorated by Martha Stewart's team as well, but that part is optional.

Boone Hall Plantation
#5 Villa Pizzo, Lake Como
If you want picturesque views by the water, consider the Villa Pizzo in Lake Como, Italy. Oscar-winner John Legend and his wife Chrissy Teigan celebrated a fall wedding there in September, and they said they picked that location because that was where they first fell in love with each other. Donning a beautiful Vera Wang gown, Chrissy gave her vows to John right by the lake, which was framed by gorgeous mountain ranges. The guests later had dinner outside under the stars during their wedding reception.

Pinterest