Hurt People Share The Worst Excuse Someone Used To Reject Them
Rejection hurts. It doesn't matter who you are or how much confidence you have, it hurts us all. However, there are levels of rejection—there are ways to let people down softly, and then there are ways of rejecting a person that hurt to the core, perhaps creating a traumatic memory that lasts for the rest of life.
The stories below recount situations where the rejection included a ridiculous excuse that felt like an obvious lie. Were they lies? Probably yes, but in some cases, it's hard to say. What is clear is that many people are cowards when it comes to rejecting or breaking up with someone. They hide behind a lie because they're not strong enough to tell the truth. Are there cases where the excuse is better than the truth? Perhaps you should be the judge of that yourself.
#1 Maybe He Secretly Wanted Two Sets Of Parents
A guy that I went on two dates with mentioned that he wanted only to be in a relationship with someone who was very close with their parents. Since we were both gay, I thought he would understand that I was disowned by my family for being gay because that is fairly common. We were in the middle of dinner and when I told him that my parents cut all ties with me. He immediately ended the date and told me to not contact him again. I found it shocking how abruptly and passionately he ended the date. To this day, I am still curious as to why he ended things like that.
#2 Now Here's A Person Who Is Not Sensitive To Disabilities
I had a girl tell me, "I can't date you because… What if we go on a date to somewhere with stairs?" I'm in a wheelchair.
#3 Quit Playin' Games With My Heart
We went out to dinner one night, and out of nowhere, she said to me: "Thanks for giving me the confidence to know that I can put myself out there again." As she explained it, she agreed to be with me just so she could figure out if she could even survive a relationship. I was her test run and nothing else. That hurt for a while.
#4 The Ultimate In Hypocrisy
"I don't like girls that play RPGs," the lifelong RPG nerd said to me. Here was a guy who played all of the Final Fantasy games telling me that he couldn't date someone who played games like that. The best part? He told me that when he came to my house one day and saw me playing Kingdom Hearts. What a hypocrite.
#5 She Put Him On Hold In Real Life
"I'm really into you, but I still think I want to be with my boyfriend for a few more months. When he goes back to Pennsylvania, we can start going out." Girl, I'm not a TV dinner. You can't pop me in the freezer and think I'll be ready to heat up when you're ready for me. Either you choose me or not. I will not be put on hold.
#6 He Only Goes For Some Younger Women, Not All
He told me it was weird dating someone so much younger, especially since I was just one year older than his little brother. This was stupid logic because he was only two years older than me. We were in high school. It was also a lie because he later dated my best friend who was, admittedly, older than me. We had the same exact birthday.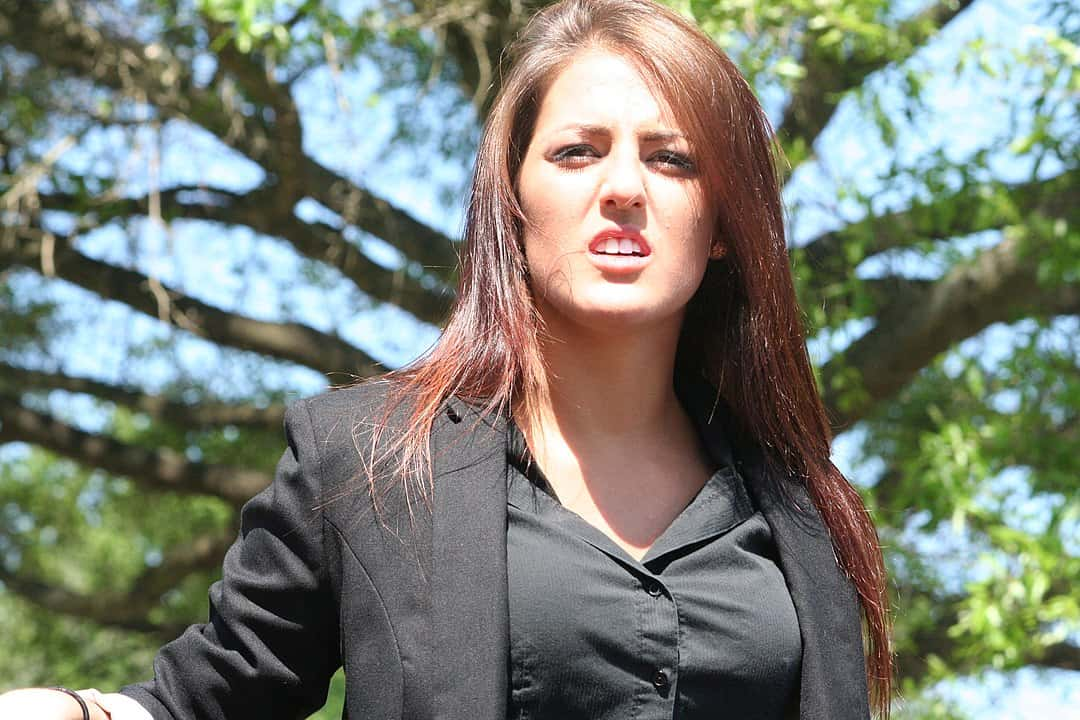 #7 Hit The Road If You Don't Have A French Accent
I don't speak English with a French accent, so I wasn't as exotic as he thought I would be. English isn't my first language, but neither is French. My first language is Finnish, but I speak both English and French fluently, as I grew up in French-speaking countries. I picked up English later because I ended up at an international school at some point. You can see how this would add to my confusion.
#8 Blame It On God
My high school girlfriend broke up with me after two years saying it was God's that will we end the relationship. She was Catholic, but never that devout, so I knew she was just using her religion as an excuse to break up with me. If she had just been honest, I probably would have taken the whole break-up a lot better.
#9 He's Better Off Without Someone Like That Anyway
"I like you, I just can't handle your gay side." She said this to me after she had outed me to my entire high school for being bi. She broke up with me after. What worse is that she started talking about me behind my back to our mutual friends, who told me she said she didn't even believe I was bi. She said I was too gay for that.
#10 No Butterflies Is A Dealbreaker
I dated a guy said to me: "You're my best friend. Everything about us is perfect… If I had to build my dream woman, you would be it… Nothing more, nothing less. It's just… I don't get butterflies with you." That confused the heck out of me. How could I be his dream woman but not give him butterflies? That made no sense. Liar.
#11 Not Fat Enough To Be Her Man
She was into really fat guys and I was only kind of fat. I had quite a bit of mass on me, but I guess I still looked a decent size. I guess she was expecting someone much bigger… What was I to do, overeat to purposely gain weight just so that she'd like me more? Heck no, she wasn't worth all of that hassle anyway.
#12 "Real Men" Are Huge Carnivores, It Seems
I am a dainty eater. Apparently, a real man eats a burger and fries. My date thought it unmasculine that I ordered fries a la carte.
#13 Looking For A Stage-One Clinger
Apparently, I was not clingy enough for her liking. Admittedly I'm not really a clingy person, but neither was she. She eventually went for my best friend who is the most clingy person I know and she literally destroyed him emotionally. Seeing what had happened to him, I realized I dodged a bullet, although I got annoyed and basically forced him to end it as he was so unhappy and kept coming to me in tears. He hasn't been the same since.
#14 Guys Often Can't Handle When Girls Are Smarter Than Them
He didn't tell me explicitly, but as my little sister was best friends with his little sister, we found out through the grapevine that they had a family meeting about our relationship. He had admitted he was conflicted about continuing to date me because I was "too smart for him." That one was a sucker punch… It happened just when I was beginning to think maybe it wasn't an issue. Oh, and the day he broke up with me, he had balloons in his car for a girl on the swim team that "he and some friends were trying to cheer up." Guess who he took to prom a month later.
#15 A Real-Life Mean Girl Wannabe
When I was 14, my best friend wrote me a two-page break-up letter. In the letter, she explained that she needed to "improve her social standing" and that she couldn't do that while being associated with me. She outlined her 14-step plan to become popular and apparently, step three was to cut ties with all of her unpopular or weird friends.
I only read a few lines before I gave it back and told her she was a moron. She just smiled sadly and wished me well in life, unfriended me from everything and refused to even look at me for two months. Well, eventually she realized her plan was nonsense and that her relationship with the 'popular kids' actually got worse because of it. She came crawling back, but I never forgave her.
I like to think I handled that whole situation with maturity and grace, but it really messed me up for a while and it's still one of the most hurtful things a person has ever done to me.
#16 Get Your Nationalities Right
He said he would never date a Mexican. I'm Pakistani. At the very least, I'm glad he was honest with me. His true colors came out the day he told me that, and I'm just glad I didn't end up dating a racist. Being from Pakistan is hard enough with all of the stereotypes pitted against us. I don't need someone who would make me feel worse.
#17 She Didn't Fit The Bill Of The Filmmaker's Wife
#18 How Would She Have Acted If She Knew The Real Reason?
#21 Getting Even Is More Important Than Being Happy For Some
#26 Some Shoes Just Tie Differently
---